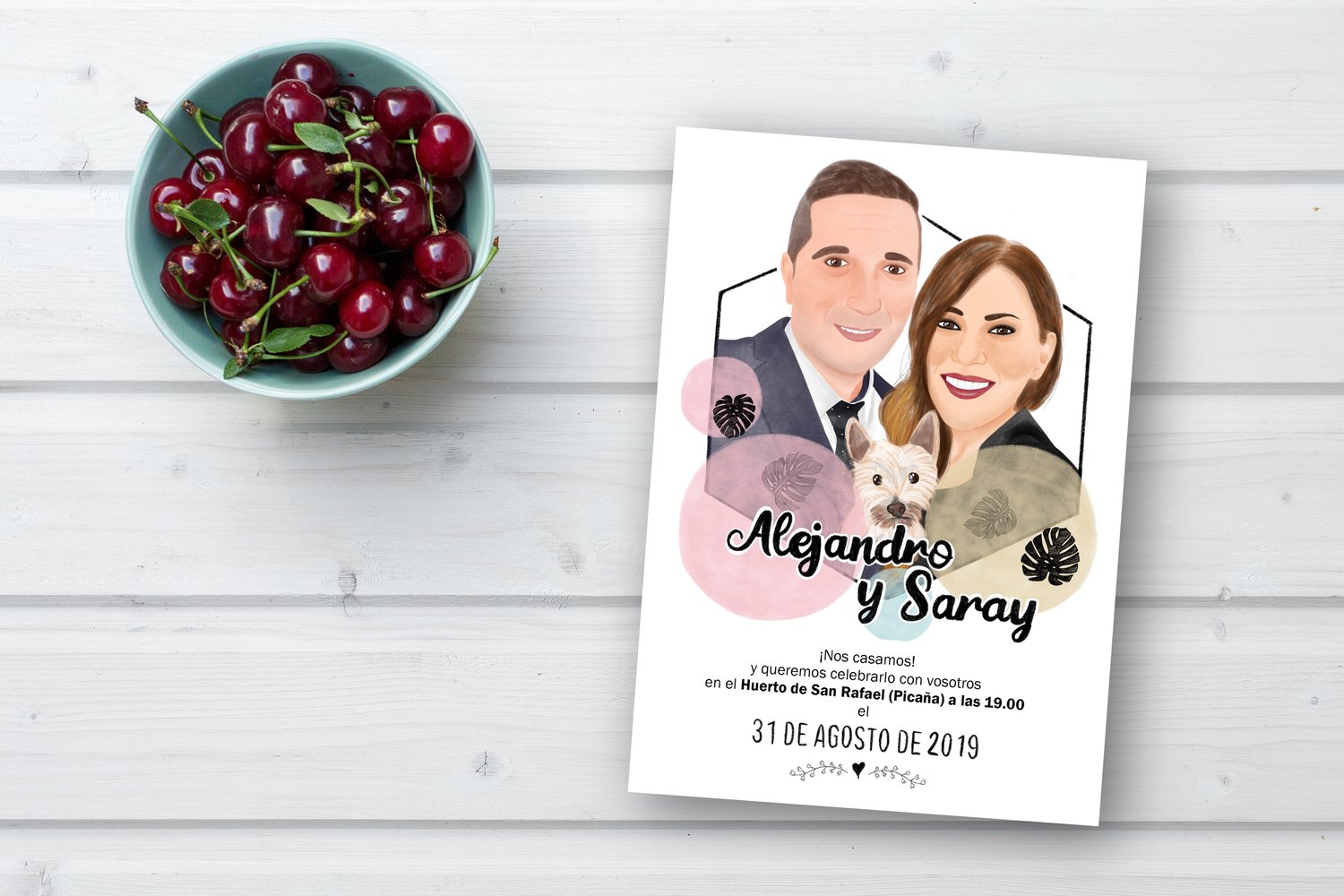 Invitaciones de boda (formato digital) / Wedding invitations (digital format)
[English description below]
En Lady Matshen realizamos invitaciones de boda totalmente personalizadas, ya que las diseñamos con un retrato ilustrado personalizado de vosotros dos a partir de una foto que os guste y con una temática personalizada a vuestros gustos. Al ser un retrato ilustrado podemos incluso utilizar sólo vuestros rostros y crear un retrato imaginativo desde cero que refleje algún gusto vuestro personal o un hobby que sea para vosotros especialmente emotivo*. Nos ajustamos totalmente a vuestras preferencias y deseos tanto en la temática como en el fondo de la ilustración. De esta forma las invitaciones son completamente personalizadas para vosotros en imagen y texto.
El precio de las invitaciones incluye:
- El diseño de vuestra ilustración principal (2 personas)**.
- El diseño personalizado de toda la invitación con los colores, plantas/flores o temática que queréis los novios, ajustando el estilo y la temática a vuestros gustos.
- Se realizan con el formato que querais: cuadrado, alargado, rectangular...
- El archivo digital en calidad alta del diseño de la invitación.
Al entregaros el diseño digital de la invitación podéis imprimir la cantidad que vosotros deséis. Os aconsejaremos sobre cuál es la mejor forma de imprimirlo respecto a calidad de imagen y papel, y también os recomendaremos empresas para ello si lo deseáis.
Desde el inicio del boceto hasta su finalización os enviaremos el diseño a medida que lo realicemos para que se pueda cambiar cualquier detalle que no os guste***.
Las invitaciones pueden ser a una o dos caras, dependiendo de vuestras preferencias. Las invitaciones a dos caras son preferibles en caso de que queráis incluir un texto especial, o si preferís que vuestra ilustración ocupe por completo la cara frontal y que la información de la boda aparezca en la parte trasera.
Cualquier otro detalle o consulta que deseéis preguntarnos estaremos encantados de atenderos en nuestro email info@ladymatshen.com. Siempre dedicamos un trato dedicado y personalizado a nuestros clientes, porque se trata de vuestra boda y os merecéis toda nuestra atención.
* Para retratos desde cero de este tipo podéis consultarnos el precio de forma específica al email info@ladymatshen.com.
** Si en la invitación quereis que salgan más personas o mascotas podéis consultarnos en el email info@ladymatshen.com.
*** Para detalles acerca de cambios y su presupuesto podéis consultarnos en el email info@ladymatshen.com.
_____________________________________________________________________
In Lady Matshen we desing fully customized wedding invitations, as we design them with a personalized illustrated portrait of the two of you from a photo that you like and with a theme customized to your tastes. Being an illustrated portrait we can even use only your faces and create an imaginative portrait from scratch that reflects your personal taste or a hobby that is especially emotional for you*. We adjust it completely to your preferences and desires both in the theme and in the background of the illustration. In this way the invitations are completely personalized for you in image and text.
The price of the invitations includes:
- The design of your main illustration (2 people)**.
- The personalized design of the entire invitation with the colors, plants / flowers or theme that you want, adjusting the style and the theme to your tastes.
- They are made with the format you want: square, elongated, rectangular ...
- The digital file in high quality of the design of the invitation.
- Taxes.
As we send you the digital design of the invitation you can print it any times you wish. We will advise you on what is the best way to print it with regard to image quality and paper.
From the beginning of the sketch to its completion we will send you the design as we make it, so that you can change any detail that you do not like***.
Invitations can be one or two sides, depending on your preferences. The two-sided invitations are preferable if you want to include a special text, or if you prefer that your illustration completely occupies the front face and that the wedding information appears in the back.
Any other detail or query that you wish to ask us we will be happy to assist you in our email info@ladymatshen.com. We always offer a dedicated and personalized service to our clients, because it is about your wedding and you deserve all our attention.
* For portraits from scratch of this type you can consult the specific price to the email info@ladymatshen.com.
** If in the invitation you want more people or pets check the price in the email info@ladymatshen.com.
*** For details about changes and its budget you can consult us in the email info@ladymatshen.com.